20 July 2010
I thought that Master Toma in Lineage II was one to hate because he hopped around from place to place, but the Wandering Alchemist in Allods is even worse


Where Master Toma would stay on his spot for about half an hour, the Wandering Alchemist stays on his spot till you talk to him. He then gives you a vial (you need three of them) and disappears immediately. Because of this, I searched the net and made a map where you can find him.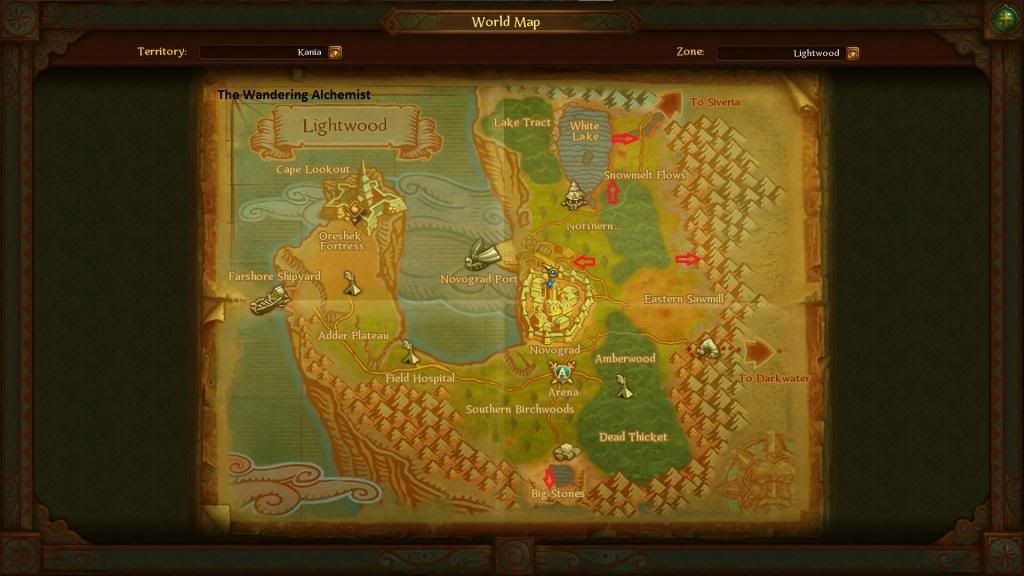 Here's the info I found on the net, that somewhat pinpoints him to the exact spot:

Heya, The Wandering Alchemist appears in certain places; League: Lightwood: Novograd: at the resurrection chapel outside the north gate Sawmill/Treasure: near the treasure spot on the hill. Big Stones: in a tent on the east side of the area Oreshek Camp: by the yellow crystal White Lake: near the waterfall at the border between Lightwood and Siveria (if not on bridge, check behind a bush near the cliff-side overlooking White Lake north of bridge or draw a line north from the 'n' in the word 'Snowmelt' on map and head to that spot.) Siveria: Molotovka: next to the rafter gibberlings on the docks. Salt Lake: in the building next to the resurrection chapel Gravestein: on the docks. Sieged Stronghold: next to the reputation quartermaster Cape of Good Hope: wandering around the camp.

Of course, I only include the League information, since I play that side
Post A Comment!