One fucking botfest!

12 January 2016
I know L2Classic gave us the promise of the old Lineage II feeling, but I didn't know Innova would take it THIS litterally...
The Skelth server is invested with (mostly) Russian bots that are there for only one thing: MAKE REAL MONEY (not sure if the Russian Ruble is real money though
). This while the EU server has a strickt list of countries that are allowd to play on the server, and Russia is not one of them!
2.9. "Territory" means the territory of Albania, Andorra, Austria, Belgium, Bosnia and Herzegovina, Bulgaria, Croatia, Cyprus, Czech Republic, Denmark, Estonia, Finland, France, Germany, Greece, Hungary, Iceland, Ireland, Italy, Latvia, Liechtenstein, Lithuania, Luxembourg, Republic of Macedonia, Malta, Monaco, Montenegro, Netherlands, Norway, Poland, Portugal, Romania, San Marino, Serbia, Slovakia, Slovenia, Spain, Sweden, Switzerland, Turkey, United Kingdom, Vatican City, and only Users located within the indicated territory shall have the right to participate therein unless otherwise stated by Innova.
(taken from Innova's EULA)
Like I've showed two days ago, the RMT in L2C is just BAD, there's no other word for it. In every town there are at least 2 bots yelling to sell adena (picture below taken when I just left Gludio) and making it unable to see the legit players chat there. Heck, if you're in clan it's even impossible to see your clan mates chat so much spam is there from the adenaselling bots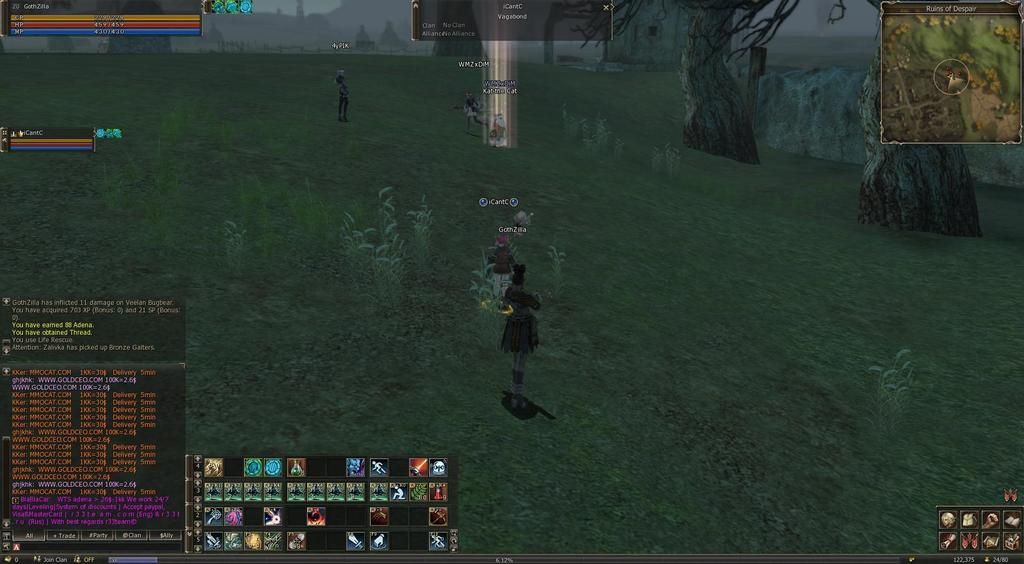 Then there's the botting. Though Innova states that they investigate EVERYONE reported, I highly doubt that. There are bots that I've reported 2-3 weeks ago and they're still running around 24/7 doing their scripted stuff (like the 2 in Moon armor in the movie below). And with bot scripts having become more and more sophisticated, it's now actually harder to spot a bot, but experienced players (like me) still pick them out like rotten apples in a fruitbasket (oh yeah, pun intended there...)
In the above movie (and I've made one alike on the same spot for 2 other spoiler bots), the 1st one (BlackGnom) is the most obvious one. Stun (or even hit) it and it'll force log to relogin exactly 30 seconds later.
The second one (Alchemik) doesn't bother when I TRY to stun him. Where every normal player would at least ask a 'WTF?' but most likely return the favor of stunning, he just keeps going. Not to mention, have you EVER seen a player with a stun resist like he has? Like 4 hist and he just keeps going, this while there's a lot of QQ on the Innova forums about the 99% landrate of the dwarf and orc stun attacks...
The last 2 (Fedylaeva and DreamCast, the ones in Moon armor) have clearly been deleveled. They were there 2 weeks ago already when I was leveling DemiGoth and Reizla (WS/SE combo) and have clearly been leveling AFK a lot, to be deleveled afterward by the bot owner. What's not recorded is that I stunned Fedylaeva later on, and much like Alchemik the bot just kept going and didn't bother at all.
...but things can get worst... Here's a great video by an old friend of mine from Nania (socketka)...
Things are not (yet) THIS bad on Skelth, but the way Innova is handling the bot & RMT problem, it sure might be something that WILL happen...
Post A Comment!